K E Y C H A I N S
Using a wide variety of fabrics, we have a lovely array of styles in several different styles &/or types.
Our most popular Fabric Keychains - and designed by yours truly! - are those with the small loop that allows you to adjust the size around your wrist.
You'll notice quality keychains in styles such as Boho, Beach and Flowers, Movie Characters, Disney and more. Take a look!
5.00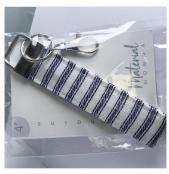 5.00